Dr. David Silverglade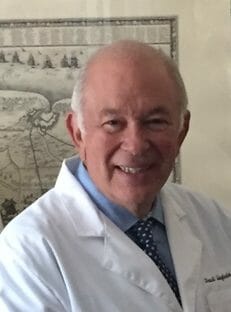 Dr. David Silverglade graduated from Northwestern University Dental School. He then enlisted in the Air Force where he cared for troops in the United States and in Guam. Dr. Silverglade received his Pedodontic training at The Ohio State College of Dentistry as well as Children's Hospital where he was Chief Resident. On the eastside of Columbus, Dr. Silverglade had a practice limited to the treatment of infants, children, and adolescents for nearly forty years. During that time, he published numerous scientific articles, taught at the OSU College of Dentistry, and lectured internationally. He continues to be on Active Staff at Nationwide Children's Hospital.
Dr. Silverglade is a member of the American Dental Association,the Ohio Dental Association, the American Academy of Pediatric Dentistry, The Ohio Academy of Pediatric Dentistry.
Patient Testimonials
"I have been having dental issues since August 2012 and Worthington Dental Group are the only ones who figured out what the issue truly was and now I will be pain free! Thank you to the entire staff there, I have already recommended you."

— Eve
"Pleasant new surroundings. Staff is always welcoming and friendly. Love access to the mall for rewarding myself for visiting the dentist!"

— Susan
"Always a positive and painless experience!"
"Just wanted to thank you for (on very short notice) working in my mother-in-law today; we so appreciated Toni and Dr. Cunnningham's quick repair of her broken bridge. It is this kindness, professionalism and expertise that mean so much to your patients. We will continue to recommend your office to anyone in need of dental care."
"Everyone is so pleasant and helpful. There is no way my experience could be any better!! Especially the office staff."
"Dr. Cunningham is a fantastic dentist. Over time he has re-done all of my old crowns and added new ones giving me a beautiful smile. He works with an in- house lab so everything is prompt and perfect. Most of his staff has been there the entire 12 years I have been a patient so they are very accomplished and and it speaks well of him as an employer."